Rainer Beckmann
Recorders
The VoxAmaDeus E-Newsletter's national correspondent last reported on the popular recorder artist Rainer Beckmann, a native of Germany, back in February of 2011. Then, catching by surprise his many fans in the VoxAmaDeus audience—as well as his professional colleagues—Mr. Beckmann took a sabbatical from concert appearances throughout the 2013-14 season. But now, happily for his audiences and his colleagues, as well as Maestro Radu, Rainer is back as an integral and effervescent part of the VoxAmaDeus instrumental ensemble!
His sabbatical from VoxAmaDeus formally ended last December with his participation in the two Renaissance Noël concerts. Coming next will be a major solo appearance during each of Vox's Brilliant Baroque concerts on Friday, April 24, and Sunday, April 26.
During these concerts, Rainer Beckmann will take center stage to perform what he describes as "a very substantial work…a core piece of the recorder repertoire"—the Suite in A-minor for Alto Recorder and String Orchestra by the renowned German Baroque composer Georg Philipp Telemann (1681 to 1767).
Georg Philipp Telemann
These concerts, conducted by Valentin Radu, will also showcase dazzling playing by trumpeter Elin Frazier and concertmaster, Thomas DiSarlo.
So read along with us as we bring you up-to-date on how Rainer Beckmann fruitfully kept himself occupied during his time away from VoxAmaDeus.
RAS: Rainer, you took a year off from performing. What did you do in that year, and what's new?
RB: First and foremost, my family grew. My wife, Jaudelice, and I had a baby in August 2013; a boy – a second boy: His name is Julian. It seemed the right thing to be more involved at home—to take a break from performing to allow me to focus on several very different things.
Next in importance, I stopped concertizing, although I kept teaching. At the same time I changed a few things in how I went about this important part of my professional life. For instance, I only taught private students, and I did not bring them into my home anymore. I began to travel to teach at various locations in the area: in Ambler, in Media, in Chestnut Hill. I continued to teach my students in the Lancaster area—from the recently closed Pennsylvania Academy of Music—on a regular basis. I offered workshops in Delaware and New Jersey. And I started teaching part time at the Philadelphia Community College. I also continued as music director of the Philadelphia Recorder Society. You found me everywhere! I was very satisfied with organizing my teaching in this way, being able to schedule lessons and classes in the evening hours and weekends. It worked out so well for me—for us as a family—that I continue to run my private studio and other teaching activities in this way to this date.
In academia it is expected that you should take a year off. You go on sabbatical. Often you may work at something in your area [of expertise] but with a different slant, and on your terms. This helps you gain new perspectives and have opportunities to collaborate with different people. In my case it meant—besides having more time for my family—to reconsider my take on music in general, along with my style of playing and performing.
It is important to keep this in mind: Even though I didn't perform in concerts, I kept playing the recorder. It's good to step aside for some time; to take a deep breath; to look at your own playing, and to renew your spirit. It is not unheard of for professional musicians to temporarily retire from public performance for some time. [Before Rainer could continue, in passing, RAS mentioned the famous Vladimir Horowitz example; to which Rainer replied, "I thought of mentioning him, but then in a flash I thought it better not to mention him and not let people get the idea my ego is that inflated! You know, he had long stretches when he took off!"]
RAS: With singers it is easy for people to question why they took time off and
sotto voce
ask, "Will they ever come back?" Maybe the instrumentalists have it a little bit different because the instrument is external to the body. But, when a singer takes time off, there usually are lots of questions. It is similar to when an athlete takes time-off. "What gives? Did he/she hurt him/herself?"
RB: Exactly. Some concerned colleagues asked me, "What's happening? Are you OK?" And I had to reassure them by saying, "Yes, everything is OK…everything is fine!" My wife has a very demanding job. So, it was good for all four of us that I was able to stay home and take care of the baby.
RAS: Aside from VoxAmaDeus, what are some of your other important musical endeavors?
RB: I have my own chamber music group called La Bernardinia Baroque Ensemble. Besides me on recorders, it includes a viola da gamba and a harpsichord as core ensemble. Baroque violin, Baroque oboe and/or other instruments are added on a regular basis, depending on repertoire. During the year, we perform in several intimate-sized, church-hosted concert series throughout the region. Last year I took a sabbatical from this musical project as well! But my colleagues supported my decision.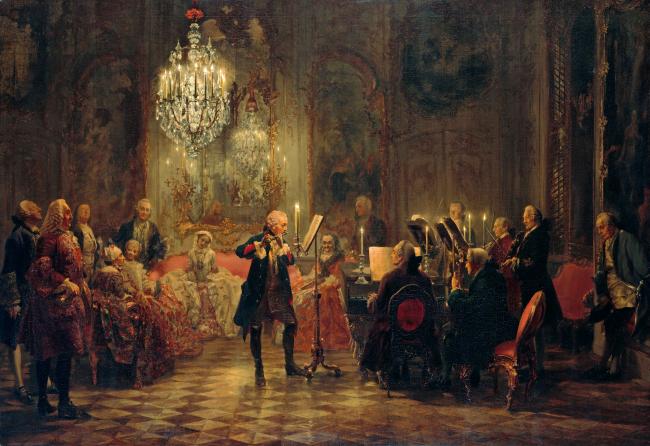 The Telemann work I will perform with Valentin and the Camerata Ama Deus on April 24 and 26 (the week after a
La Bernardinia
concert) is the Suite in A minor for Alto Recorder and Strings. It was composed by the renowned German Baroque musician Georg Philipp Telemann. The word suite indicates that it is a composition based upon popular dances from the Baroque period. Although the A-minor Suite is today sometimes performed on a [traverse] flute, it was originally written for alto recorder, which is the instrument of the large recorder family that Baroque composers most often wrote for. In England of that time, the alto recorder was called the "common flute," a name that underlined its particular popularity in comparison with the smaller soprano recorder and the bigger tenor and bass recorders.
As do other suites from the Baroque, the Telemann begins with a so-called "French Overture." This title denotes that it starts in a slow and stately manner, morphs into an exciting fast segment, and then ends with a dramatic return to the opening slow section. In its other dance-based movements, this Telemann Suite includes many highly virtuosic elements known from Italian solo-instrument concertos. German craftsmanship can be encountered in the interesting and demanding parts for my colleagues in the Camerata Ama Deus. And as so often occurs in Telemann's works, with their sparkling mixtures of national styles, we even find Polish-inspired music, in this case in the form of a jaunty Polonaise in the last movement. Altogether, it really is a very substantial and fascinating work. I am very much looking forward to performing it.
It is always fun to play new pieces—yes! And I am very grateful to Maestro Radu for being so open to performing "new" music from the Baroque, like Telemann's recently discovered Concerto in G minor that we performed together during the 2012-13 season. On the other hand, I am very appreciative of the VoxAmaDeus ensembles for embracing works of the recorder's core repertoire. It is enjoyable to perform them, for you always want to play them better—more beautiful in sound, richer in expression, often faster—than the time before! That's part of the fun we have as performers.
RAS: Rainer, do you have any closing thoughts?
RB: There comes a point in your career when you stop trying to play as much as you can, or as far away as you can, just for the fun of it. You have other priorities, like family, or discovering that it is much more important to perform with people you would really like to work with than chasing after each and every concert gig, or to be able to perform the repertoire you would like to play. I feel lucky that I have the opportunity to continue my musical journey with Valentin and VoxAmaDeus, and very much look forward to many more exciting concerts together!